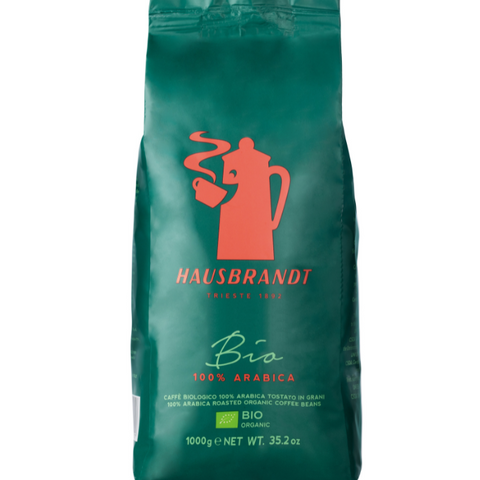 Euro Caffe
BIO
FLAVOR PROFILE:  
Choosing your own cup of coffee and protecting biodiversity and natural resources?
With Hausbrandt Bio 100% Arabica it is now possible.
The precious coffee berries are grown in selected plantations, in full respect of nature, and in compliance with the processing of raw materials of biological origin.
Bio Arabica 100% is an authentic coffee. Hausbrandt relies on cultivation that respects the rhythms of nature and obtains a coffee with an aromatic and intense taste, one of a kind.
Bio Arabica 100% is product innovation and the desire to obtain products that respect the environment they come from.
Bio 100% Arabica is taste, a blend of coffee with a sweet aroma and intense aftertaste and presents itself on the palate with a pleasant acidity, balanced by notes of fresh fruit and a particular almond scent, also present on the nose.
Hausbrandt Bio organic coffee 100% roasted Arabica beans is an ethical choice, destined to satisfy the most demanding customers. The CSQA certification ensures that the entire production chain of products from organic farming is always respected, even in the most rigid aspects. A balanced and sweet blend for an authentic coffee, respectful of the times of nature and the environment in which it grows.
Hausbrandt is committed to respectfully transforming what nature offers, selecting the best coffee with passionate care and conscious attention. Organic is therefore not only a tribute to the most complete coffee can offer but it is a tenaciously pursued path for a more intimate and authentic relationship with the coffee bean.